We are very excited to announce that our main speaker, as featured on Channel 7: The Morning Show – is Dr. Gary Wohlman from www.mypresentationdoctor.com.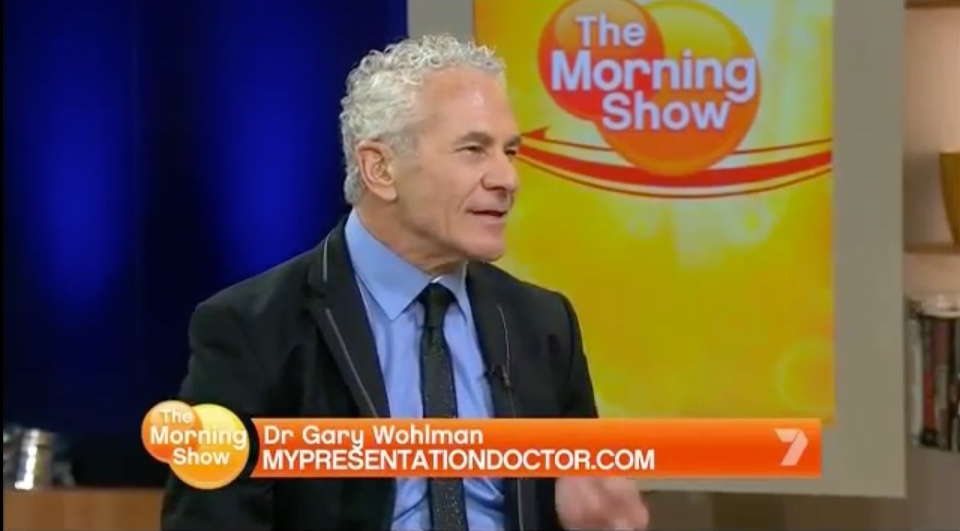 Dr Gary Wohlman is an innovative, international presentation coach who trains managing directors, CEOs, senior managers and executive committee members of organisations — as well as professional speakers and leaders, entrepreneurs and performers in a wide range of industries. His streamlined approach to facilitating personal and corporate communication breakthroughs combines 45 years of performance-based leadership training, team-building and platform skills.
Transforming your Message with your Body & Voice – Enhance your Presentation skills, and Watch your Business Soar!
Dr Gary Wohlman will facilitate this unique presentation, awakening refreshing new ways for us to mobilise self-talk that is empowering, nurturing and healing – both with ourselves and in our interactions with others. Through his scenario-based, Monty-Python flavoured approach to generating breakthroughs in communication, by the end of this presentation you will come away with tangible tools to revitalise your thinking, speaking and actions ~ on all stages of your life.
____________________________________________________________________________
Simon Gillard, from PTSD - 'Time for Change' will also be with us to talk about mental health, suicide prevention and early intervention, depression, anxiety, and how to deal with it. He's also bringing along his book "Life Sentence: A Police Officer's Battle with PTSD" for those who wanted to buy them so do not forget to carry cash with you.
Molly Lee from ACVISORY and John Clifford from SPOTCAP will also be around to help you give your business the edge and help you identify opportunities for growth.
If you manage a small business and want to grow, you can't miss this event.
Opportunities to meet up to 100 small business owners
Buffet included
Door prizes valued at $1000
The Gong of Success
30 Seconds of Fame with Sonia Wray
Advance sales have been really encouraging for this one so we expect to sell out, and will cease sales on 12 August unless sold out prior.
Hosted by: Zippy Financial Group
Event Sponsor: Chadwick Real Estate
Media Sponsor: North Shore Mums