| Thursday February 9
One of the most common household complaints when it comes to electricity, other than the actual cost, is the cost of lighting.
So often we turn on a light and forget to turn it off, kids have a fantastic habit of this. When we get up in the dim morning light, turn on the switch, it's quite easy to leave the room after the sun has come up and forget that the brightness is actually from the lights.
In modern home design, we have seen a consistent trend towards down lighting. In October 2010, the Australian government started a phase out program of the low-voltage halogen downlights. By April 2012, there was a total ban on their importation into Australia. In January 2011, this was extended to the mains or 240 voltage halogen lamps and on 30 September 2016, they were no longer able to be imported.
So now that you can no longer buy replacement globes for your halogen downlights, what are your options?
LED downlights have an average life of 10 years and to maximise this they need the best setting.
Some websites will say that you can simply pull one halogen globe out and replace it with an LED globe. Unfortunately this isn't the case and it's highly dangerous.
LED globes, like Halogens, differ. They have a different way of using electricity. Rather than a steady draw, part of their efficiency comes from short but high bursts of electricity. Simply swapping them over can lead to early burn out of the globe or worse, burn out of the transformer!
So what should you consider now you have decided that you need to make the switch.
Replace your transformers
While you can swap your hungry halogen globes for LEDs, consider this as an ongoing investment. By swapping over the technology your lighting relies upon to work properly, you are upgrading to the current safety standards. You are replacing old and tired transformers. You're ensuring that your LEDs have the right transformer to last it through its 10 year life span.
Use a licensed electrician
While changing a globe is simple, changing a transformer is the job of a licensed electrician. In fact, in NSW, it's the law! By using a licensed electrician, your work is guaranteed and they are insured; protecting you and your property against any unfortunate mishaps or dodgy installations.
Consider how you would like to use the lights
LED is a different kind of light to halogen. It's energy efficiency means a lower wattage globe can produce the same amount of light.
Perhaps you need more or less light, or perhaps you would like dimmable lights now. By using a licensed electrician you can discuss your changing requirements when planning your switch.
If you would like to know just how much you can save by swapping your lights to LED consider the following taken from the Australian Government's Bulb Saver App.
This table is taken from the Bulb Saver App and shows the expected saving for swapping out one halogen globe for an LED equivalent.

Once the transformer and LED have been installed, the new LED globe will generally last up to 10 years. Currently LED globes cost between $8-$10 each and can be bought in bulk.
DCN Electrical would like to offer Connect for Success members, readers, & their families the opportunity to upgrade their old and outdated halogen down lights AND the transformer for $66 per light including supply, fitting, and labour.
Members taking up this special offer also have the option to reduce the mobile phone clutter around their power points by switching over their double power points to include inbuilt USB chargers for $150 fully installed.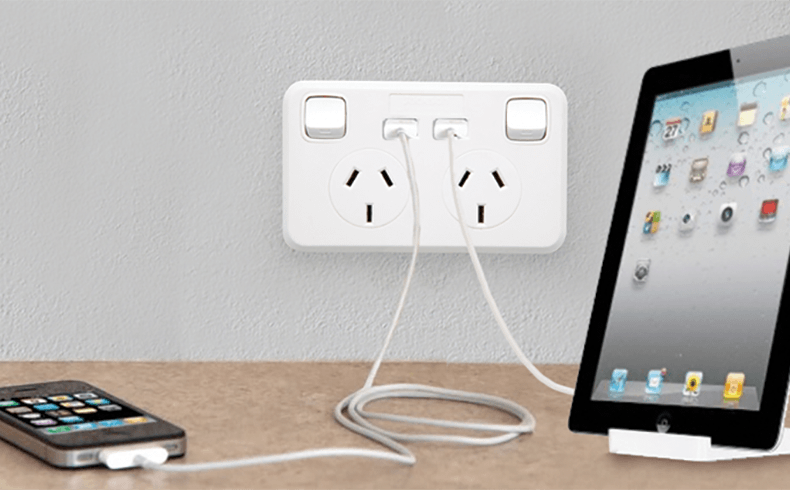 Contact Damien, owner of DCN Electrical on 0404 863 975 to organise your new energy efficient LED down lights.